---
---
---
Plan a route
Click on the screen (1 sec) to access the main menu
Click on Navigation, then Setup the route, then Route with steps



You will now add the points of your route:

The point corresponding to step already exists:
Click on Add.

Then on Ok


The point corresponding to step does not yet exist:
Click on Display
Setup as manual zoom if this is not the case:
Press the down arrow to enter the quick configure menu and choose Zoom: Manuel
Switching to 'Free Movement' by clicking on the icon
Place the green cross on the desired position (click on the screen and move the stylus).


Click on the screen (1 sec) to return to the route.
Click on Add, then New. To create a new point:
Setup (not required) the name and the group of the point
Click on 'Use manual location'.
For this kind of point, prefer the status' Display'.
You can choose an icon.


Then Ok.


Then Ok.

Repeat these operations for all points of the route.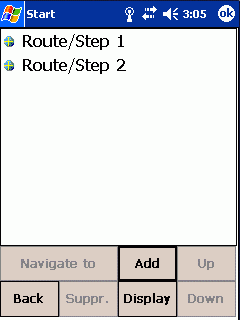 Select the first point and click Navigate to.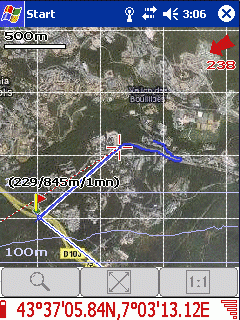 ---